I wanted to try a new style of photography, and Madrid gave me this opportunity. Usually I like photographing more rural settings, and modern cities have always been less appealing to me. However, Madrid proved to be a place filled with photo opportunities. Its streets are beautifully decorated with green areas, and its buildings are architectural master pieces. The people, the food and the overall essence of the city made it a great place to visit. For the first day I used the Nikon L100, and then I switched back to the Fuji S5000. I decided to also try a new editing style. These photos are in black and white, and they have a very high contrast and highlights. I think it makes the pictures look ancient, and Madrid is portrayed more dramatically as well.
Enjoy!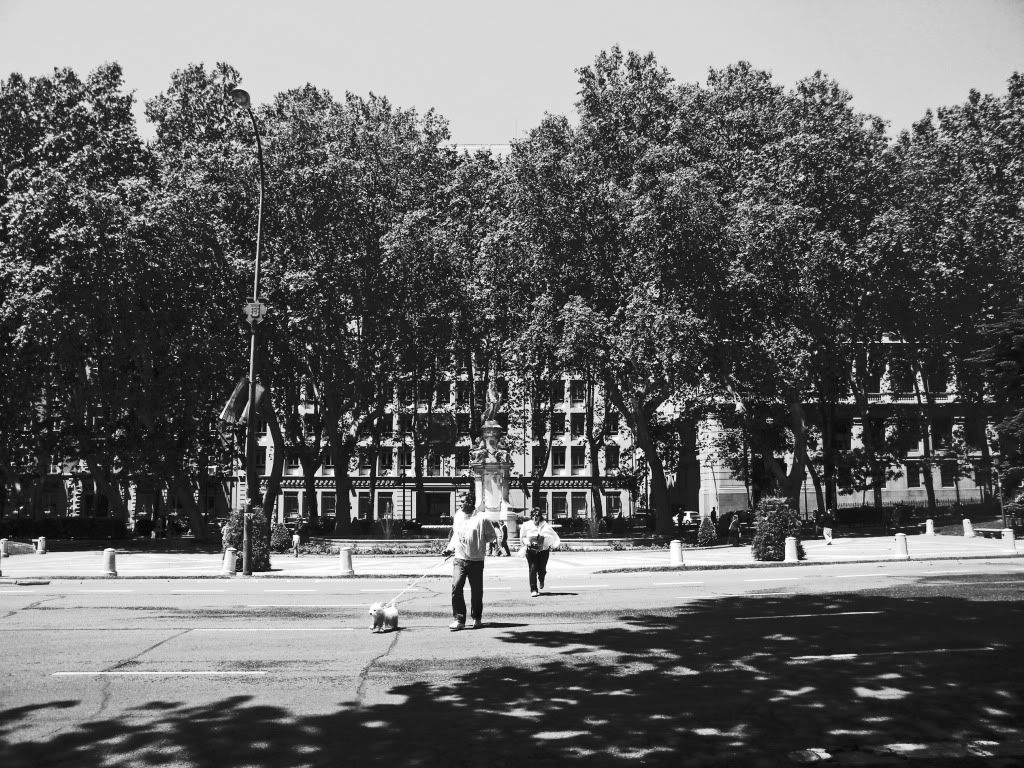 El Paseo del Prado, this beautiful street shows the efforts of the Spanish people to keep their capital as majestic as it has always been. There are century old buildings wall to wall with modern shops. The street is also enhanced with the insane amount of trees it has. 
There were a lot of people protesting for different things. This plaza also had a lot of people playing music and dancing. It was a Sunday afternoon, so I was able to get a lot of people in the picture.
"Fuera el Ejercito de Chiapas". It is from one of the protests that were happening around the city that day. I wonder what the problem with Chiapas is? I love the Mexican stereotypes of the drawings
Another protest, 100 years of "narco sindicalismo", me suena a drogas y trabajadores?
The man with no face. Madrid streets are a great place to find these street artists. 
A tourist having his picture taken inside a charcuterie and cheese shop. Jamon Iberico, Jamon Serrano, and Queso Manchego are very famous around the world, and the best quality products always come from Spain. Coming from Morocco, where pork meat is considered to be filthy, and it is rarely sold, it was a complete different situation in Spain. Here, it is all about pork, and a great one.